HEROES REMEMBERED
On Sunday 11th November 2018, the centenary of the armistice at the end of the Great War, Audley Brass were special guests of Audley Male Voice Choir and University Hospital Choir for a concert titled 'Heroes Remembered'. Over 1000 people were in attendance at the Victoria Hall, Stoke-on-Trent's premier concert venue.
The band played brilliantly, with excellent solo contributions from Hannah Taylor (Apex & The Last Post), Ian Betteridge (The Bare Necessities), Craig Shaw (Boogie Woogie Bugle Boy), Kevin Dale & Anthony Bishop (Benedictus). There are already further high-profile events in the pipeline for the band as we head into our busy Christmas schedule. Find out where to find us over the festive period on our Events page.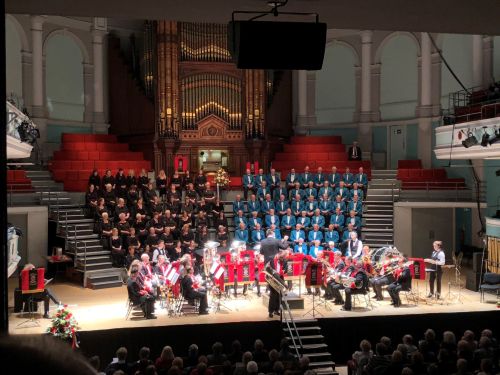 FREE CONCERT - SUNDAY 24TH SEPT 2017
Following a busy summer of events which included performing in the CARA Summer Carnival, Midsummer Magic in Hanley Park and a lovely, sunny afternoon spent in Congleton Park, Audley Brass are now gearing up to head further afield across the Peak District to represent the village of Audley in the Bolsover Festival of Brass entertainment competition in Derbyshire at the beginning of October.
Last year the band had a very successful day at the contest, which included a brass / heavy-metal fusion arrangement of Iron Maiden's Run To The Hills, complete with electric guitar. This year promises to be no different featuring more innovative arrangements!
Ahead of the competition, the band will be hosting a FREE CONCERT in the village on Sunday 24th September, where their full contest set will be performed, along with a further set of other brass-band favourites. The band are also delighted that international musician and acclaimed conductor, Mareika Gray, will be in attendance as guest-speaker and adjudicator.
Along with the main band, the concert will also feature a performance by Audley's very own training band, which is open to beginners, improvers and returning players of all ages. The concert is a great way to see what beginners can achieve in such a short space of time and there will be an opportunity to speak to members & tutors to find out more.
The concert starts at 7pm at Audley Community Centre, ST7 8DH. No tickets required and refreshments will also be available!
115 Years of Music Making - Saturday 6th May 2017
We are delighted to be hosting a celebratory concert on Saturday 6th May 2017 in recognition of the band's 115th anniversary.
The event will take place in St James' Church, Audley, ST7 8DE at 7:30pm and we would like to invite as many past players, MD's and supporters as possible to join us in celebrating this milestone.
The evening will feature a number of soloists and will include a varied programme of traditional pieces alongside fresh, innovative compositions.
Tickets are £6 on-the-door or can be purchased in advance on our website or by contacting Georgina Hood on 07974 666826.
Bolsover Festival of Brass - October 2016
On Sunday 2nd October 2016, Audley Brass were delighted to take part in the Bolsover Festival of Brass contest for the first time in the band's history. The competition consists of competing bands each performing a 20 minute set of their own choice and the band's Musical Director, Tom Hancock, certainly chose an eclectic mix of pieces for their performance.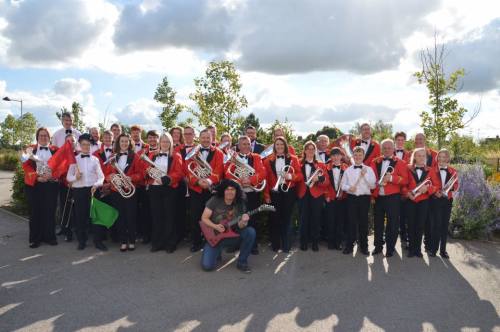 The set kicked off with a brass-band / heavy-metal fusion performance of Iron Maiden's Run To The Hills arranged for brass band by Rodney Newton. Audley Brass were delighted to be joined by electric guitarist, Matt Dashper-Hughes, and drummer, Matt Capper, to be the icing and the cherry on top of the musical cake.
Next up was a traditional performance of JA Greenwood's The Acrobat performed by the band's Solo Trombonist, Patrick Marshall.
This was quickly followed by Piazzolla's Libertango, arranged by Leigh Baker - a fast paced arrangement featuring Repiano Cornet player Craig Shaw and Ashley Taylor on Trombone.
The mood was slowed down for the next piece, a beautiful hymn setting of Love Unknown by John Ireland, arranged for brass band by Steve Robson. This tranquil arrangement featured a quintet consisting of James Griffiths (Principal Cornet), Claire Speare (Flugel Horn), Callum Hill (Solo Horn), Leanne Bishop (Solo Baritone) and Josh Allen (Eb Bass).
The finale, Blue Thunder, an original work by Dan Price composed to mark the 75th anniversary of the Mallard achieving the world speed record, was launched by 'station-master' Jakob Hill. The work opens with band members chanting "chi-ca-ch" to imitate the sound of the train moving out of the station and also includes choreography to depict the train bouncing along the tracks and racing around bends.
Audley Brass were one of only a handful of bands to compete in two different sections during the day - both the Fourth Section and the Third Section.
The first performance was in the Fourth Section and the band were delighted to be be placed Runner's Up in this section. Ahead of our promotion into the Third Section in January, the band decided to also compete in this section and came away with a commendable 8th placing out of 11 bands - a result that stands them in good stead for the forthcoming contest season.
Both perfomances were filmed to be subsequently broadcast online but are much better when viewed and heard live. If you want to experience a live performance of a number of these pieces plus a selection of Christmas favourites and much more, Audley Brass will be hosting their Annual Christmas Concert at Audley Methodist Church Hall at 7:30pm on Saturday 17th December - for more details click here.
Promotion for Audley Brass
Audley Brass competed at the Midlands Area Regional Contest on Sunday 13th March 2016 and were awarded 7th position out of 18 competing bands, which consequently saw them assuming first position in the overall grading tables.
The band are delighted to announce that as a result of a continued high standard of performance consistency over the last 3 years, they have been awarded promotion to the Third Section for the forthcoming season.
The band are looking forward to building on their recent success over the next few months and are busy preparing an exciting and eclectic programme for their upcoming engagements. You can hear the band in action at their Annual Spring Concert to be held at St Mary's Church, Alsager on Saturday 7th May 2016 at 7:30pm. For more information please contact us.

Brass At The Guild - January 2016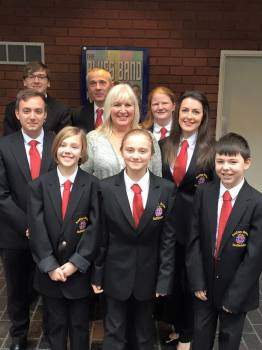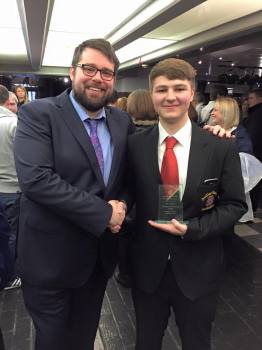 On 24th January, Audley Brass got their 2016 contesting season underway performing at Brass at The Guild held at the Guild Hall in Preston. On what was a number of the band members' first competitive outing with Audley Brass (pictured right), the band were delighted to be awarded 4th place on the day.
What's more, Principal Cornet player James Griffiths (pictured left with Musical Director, Tom Hancock) led by example and came away with the competition's Best Soloist award.
The band's next public performance will be at MMU Cheshire (Crewe Campus) on Saturday 20th February at 7pm where they will be performing alongside 4 other local brass bands. Audley Brass will showcase their test piece, The Journal Of Phileas Fogg, a fast-paced composition inspired by Jules Verne's novel Around The World In Eighty Days.
Success for Audley's younger members!
A selection of the younger members of Audley Brass took part in the recent Foden's Band Solo, Duet and Ensemble contest and also the Slow Melody competition organised by Lions Youth, both held at Sandbach School throughout the Autumn.
Four of our members took part in the competitions and we were delighted to see them come away laden with trophies!
The results were as follows:
Foden's Contest
11 & Under Slow Melody - 1st Place - Hannah Taylor
11 & Under Duet - 2nd Place - Hannah Taylor & Bethany Harby
Hannah Taylor also won the 'Local Player With Most Potential' award.
Lion's Youth Contest
11 years Juniors - 1st Place - Hannah Taylor
10 & Under - 2nd Place - Bethany Harby
Group - Juniors - 2nd Place - Hannah Taylor & Bethany Harby
Non-Brass - Juniors - 1st Place - Jakob Hill
15 years Youth - Merit - Callum Hill
Hannah Taylor and Bethany Harby were also awarded the 'Players With Most Potential - Juniors' award.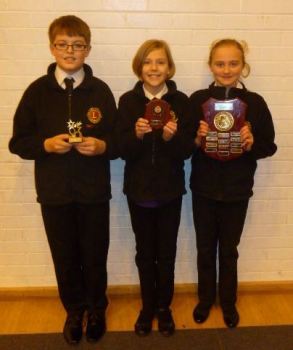 Pictured with a selection of their trophies (left to right) are Jakob Hill, Hannah Taylor and Bethany Harby.
Audley Brass welcome international guest soloist to join them for Christmas 2015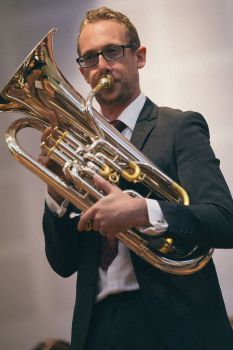 Audley Brass are extremely honoured to welcome Sterling Euphonium artist, Mark Glover, as guest soloist at their annual Christmas concert on Saturday 19th December 2015.
Mark will fly in from his home in Singapore and perform a number of solos including the UK premiere of a new brass band arrangement of 'Bells across the Meadow' by Albert Ketelbey. The arrangement has been written specifically for Mark by the talented Arranger in Residence of The Staffordshire Band, Wesley Kendrick. Mark will also perform Wesley's arrangement of Silent Night, entitled 'Christmas Eve', amongst other solos.
This year Mark has performed in Singapore, Thailand, Brunei, Malaysia, Australia and, most recently, Brazil but admits that "there is nothing like playing solos in a local church, with a brass band, in my home country, at Christmas time".
Whilst in the UK, Mark will spend time rehearsing with and coaching the band as well as giving an adjudication of their performance of next year's Fourth Section Regional Test Piece, "The Journal of Phileas Fogg", on the night of the concert.
Audley Brass Musical Director, Tom Hancock, said: "This is a great opportunity for Audley Brass to have the chance to work with and accompany a world-class soloist like Mark, let alone be the focus for his UK Premiere of a new piece of music."
The concert will be held at Audley Methodist Church, New Road, Bignall End (ST7 8QF) on Saturday 19th December 2015 at 7:30pm.
Tickets are priced at £6 and can be purchased online (click here) or are available from Rachel Tunnicliffe (call / text 07775 582212).
Stoke-on-Trent Festival of Remembrance 2015
Audley Brass are currently busy working towards a number of high-profile events including the Festival of Remembrance at Kidsgrove Victoria Hall on Saturday 31st October 2015.
2015 marks the third consecutive year that the band will have the pleasure at perfoming at this well-organised evening and the band are looking forward to perfoming with other local artistic talents.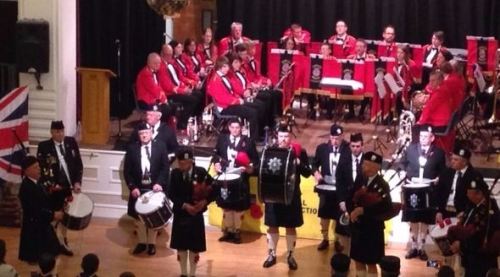 Success at the Midland Regional Championships - March 2015
Following run-outs at both Brass at the Guild in Preston and a local preview evening at MMU Cheshire, Audley Brass were delighted to achieve 6th place in the recent Midland Regional Championships out of 17 competing bands on the day.
This result stands the band in good stead for promotion to the 3rd Section next year and currently puts them top of the 4th Section grading tables.
The band's MD, Tom Hancock, was "very proud of the efforts of Audley Brass" and remarked that "a creditable result" was achieved. He added that the band produced "a performance of genuine quality and confidence around the stand especially soloists".

Audley Brass are now excited to build on their success over the next 12 months and are looking forward to performing in their many upcoming engagements. Please click here for details.
Brass at the Guild - February 2015
On 1st Feb 2015, Audley Brass took part in its first competitive outing under new MD Tom Hancock at Brass at the Guild in Preston. A good day was had by all and it proved very helpful in preparing the band for the Regional Championships.
Special recognition went to our percussionist Jakob Hill who was awarded the contest's 'Youngest Player' award.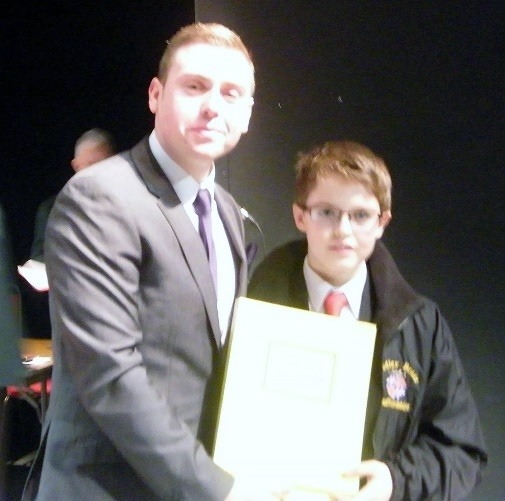 New Year Revolution!
After an extremely succesful festive season for the band, our focus now moves to working towards the brass band contesting season - namely, Brass at the Guild to be held in Preston at the beginning of February followed by the Midland Area Regional Championships where we head down to Bedworth during March.
We are also pleased to be part of an event which involves 5 local brass bands performing their test pieces for the upcoming championships - to be held at MMU Cheshire on Sat 21st February.
Whilst we now almost have a full band, we still require a cornet (position negotiable) and tenor trombone in order to complete our line-up. Please contact us for more information.
We wish to thank our supporters (both new and old) for their continued support and hope to see as many of you out and about as possible throughout 2015.
Christmas 2014
We have enjoyed a busy and successful Christmas season so far with a number of full-house concerts and other engagements. Click here to read about our recent concert at Willaston Masonic Hall.

It's not too late to catch us, however, as we still have 4 outings during December.
Look out for us around the streets of Wood Lane on Saturday 20th and Halmer End on Sunday 21st. We'll be at the Audley Methodist Church's Carol Concert on Sunday evening and if you still have last-minute shopping to do, we'll be entertaining shoppers in Tesco Crewe on Christmas Eve morning.
Audley on the airwaves...
Click here to hear a short interview with Audley Brass MD Tom Hancock on BBC Radio Stoke - 2 hours 12 minutes into the programme
New MD at Audley Brass
Audley Brass are delighted to announce the appointment of Tom Hancock to the position of Musical Director of the band with effect from 20th August 2014. Tom comes with experience of playing and competing at the highest level with Roberts Bakery Band and has had recent successes as MD of the Lions Junior Brass Band which is part of the highly successful, and respected, Lions Youth Brass organisation based in South Cheshire. We are sure that everyone connected to the band will offer him a warm welcome and we look forward with great anticipation to working with him.